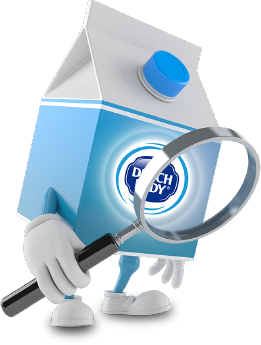 DOES MILK SUPPORT YOUR IMMUNITY?
Yes, milk helps support our immune system. Milk and milk products are officially globally recommended as part of our daily diet. They contain important nutrients such as protein, calcium, vitamin B2 and B12 that have a lot of different functions that all contribute to a healthy body. Protein, for example, is good for growth and development, and a building block for muscles, while vitamin B12 helps red blood cell formation. Some milk products are enriched with nutrients like vitamin A and D, which are also known to support our immune system.
DOES COW'S MILK CONTAIN HORMONES?
While there are a range of naturally occurring hormones found in milk, their levels are generally considered too low to exert any biological effects on consumers. These hormones are naturally produced by the cow. When you drink milk, these hormones are digested by enzymes in the gut and as a result, are broken down and not absorbed in their active form.
IS MILK BAD FOR THE HEART?
Nutrition is important to keep your heart healthy. Generally, too much saturated fat is not good for the health of your heart. Milk and dairy products do contain some saturated fats. However, recent studies have demonstrated that the consumption of dairy products, such as milk, yoghurt and cheese, have a neutral effect on the health of your heart and are therefore not bad for your heart.
ARE COWS INJECTED WITH ANTIBIOTICS AND GROWTH HORMONES?
The use of antibiotics to treat farm animals is heavily regulated. Growth hormones and the use of antibiotics are prohibited. This legislation is enforced through rigorous inspections.
CAN LACTOSE INTOLERANCE DEVELOP DURING ADULTHOOD?
People are born with the ability to digest lactose, the sugar in milk of mammals. But some children can lose this ability when they reach 6 to 8 years old, resulting in an intolerance for lactose. In some situations, lactose intolerance develops later in life. Reasons can vary, such as medication (including radiation therapy), stress, alterations in the gut microflora, bacterial or parasitic infections or a decreasing lactase enzyme activity due to ageing.
DO OLDER PEOPLE BENEFIT FROM DRINKING MILK?
An ageing body slowly loses muscle mass and its bones get weaker as well. These are normal physiological changes. Loss of bone mass can be slowed down by physical activity, sunlight (vitamin D) and a healthy diet with adequate amounts of calcium. To counteract the natural loss of muscle mass, it is important to get enough physical activity as well as consume sufficient protein – a key muscle building block. Milk is a very good source of both protein and calcium.
Matter of Milk | Dairy Australia, You Ask. We Answer | Milk Life, Nutrition.